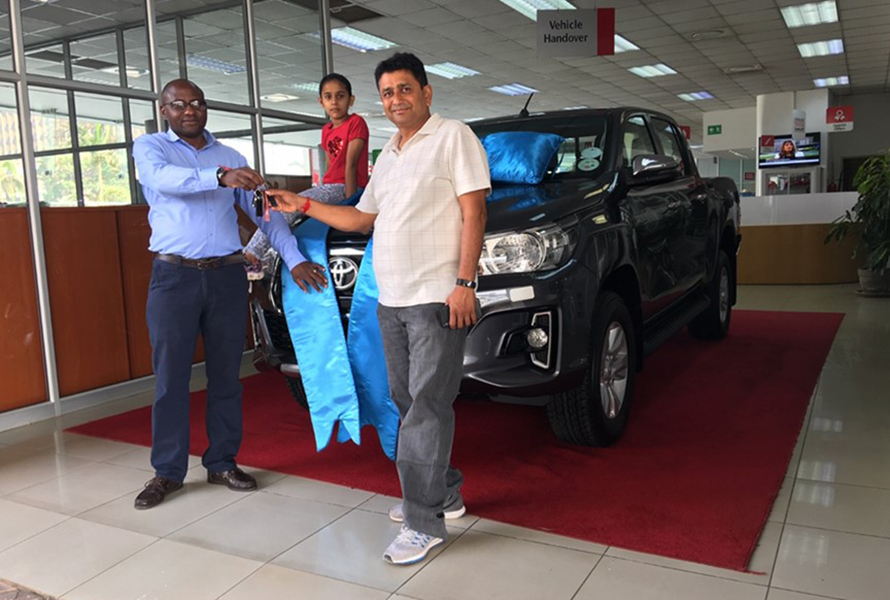 Toyota Zambia thanks Mr. Patel for Purchasing the Hilux Double Cab and wishes him a Big Congratulations for adding the model to the existing fleet he has. Mr. Patel who has been a Toyota Customer for over 20 years with more than 15 models to his name.
Asked about how he feels about the Toyota Brand and why he choose this particular vehicle, "Idecided to return and purchase the Hilux Double Cab because it is a utility vehicle and will be more ideal especially that I am into construction. I have been a Toyota Customer for more than 20 years. I am a Toyota believer simply because my mobility both work and pleasure is always made easier. Toyota Zambia's Customer service is one of a kind, it has reliable and exceptional friendly staff. What's so interesting is that Toyota Zambia has maintained their standards regarding quality service delivery, however improved the product range over the years; and that is what keeps me coming back – innovative and creative nature. I am also assured of genuine parts and exceptional aftersales service after I hit 5,000km which not only maintain my vehicle but also protect me from unforeseen breakdown. My last words can only be that, Toyota Zambia vehicles' fuel efficiency is impeccable and the performance is just one of a kind, I am speaking from experience", he said.
Mr. Patel a Zambian Business man who runs National Building Supplies in Lusaka boast of his Toyota Fleet with more than 15 models including Land Cruiser 200, Fortuner, Hino and Camry to just mention a few.
Congratulations Mr Patel and thank you for having continuous trust and loyalty in us!
ZAMBIA DRIVES TOYOTA