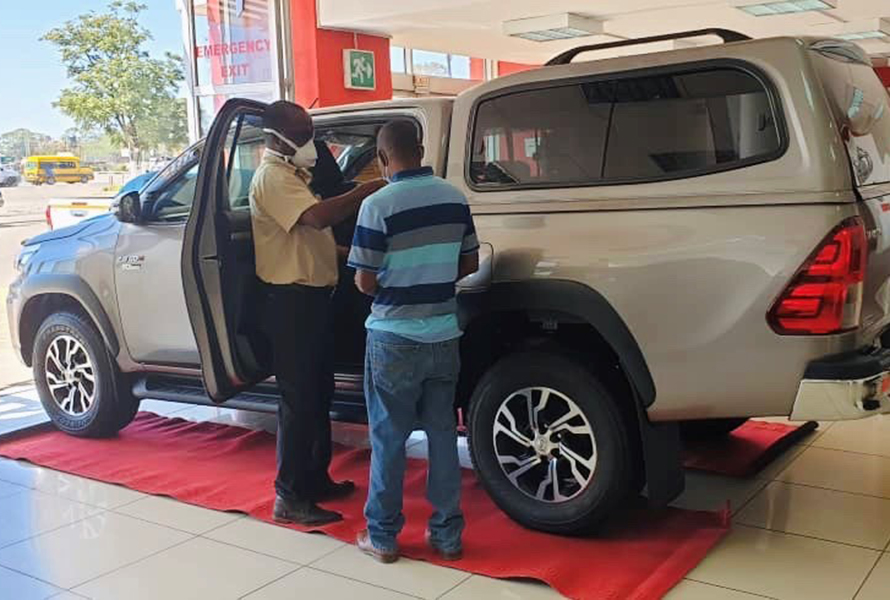 Toyota Zambia extends sincere gratitude to Mr. Likando Nambayo for remaining loyal to our Brand.
When asked about why he choose this particular Hilux, this is what he had to say. "Let me take this opportunity to first of all thank the sales consultant who was very patient enough to attend to me and answered all my questions (as he smiles). I must inform you that your slogan speaks for itself as am a Toyota Lover. I have associated myself with Toyota brand for over 18 years and currently own a Land Cruiser Pick-up and station wagon which are still in good condition. I am very much comfortable to say that my loyalty is not only based on the products purchased but also the aftersales service provisions. Let me share my thoughts about this purchase I have just made in particular. The Hilux 50th Anniversary Sport Limited Edition validates my being part of the Golden Jubilee with Toyota Hilux family. Yes, I read from your site and was also told that the Hilux was built to commemorate the 50 years' existence of the Hilux. Noteworthy is what comes with the vehicle; 50th Stickers on the vehicle, 17-inch Sport Edition Alloy Wheels and the canopy which is like a bonus especially during the rainy season. This vehicle is unique, strong and the history attached to it just made me go for it- It's a limited edition." He said!
Certainly, brand perception is something that is deep routed in prospects' and customers' mind which has an effect on brand association, gives birth to loyalty thus resulting to Brand Equity.
A big CONGRATULATIONS to Mr. Nambayo who is based in the Copperbelt – Kitwe for purchasing the Hilux double cab 50th Anniversary. We take this moment to thank you for trusting us and your continuous support.
Wishing you plenty of kilometres and safe journeys in your vehicle across the country.
#ZambiaDrivesToyota