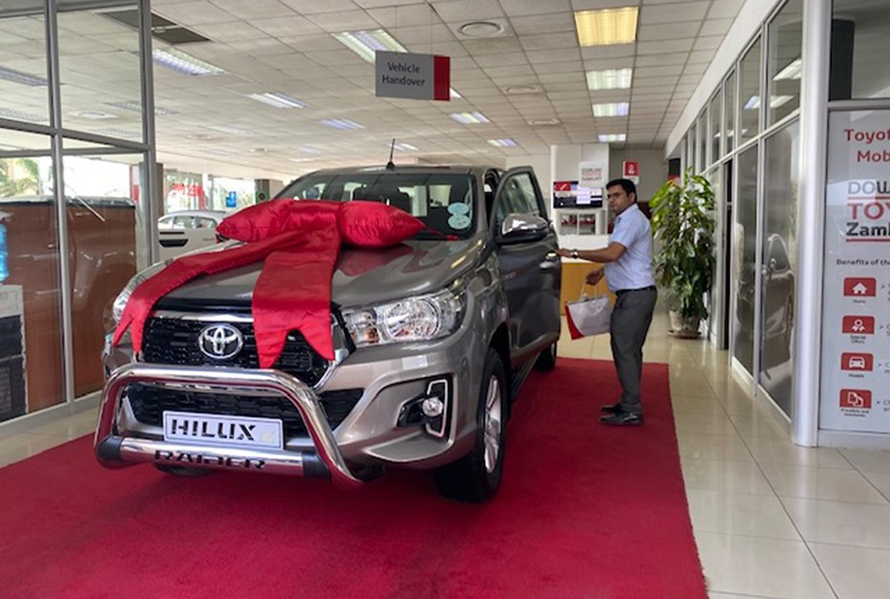 Congratulations to Mr Alam for purchasing the Hilux Double Cab. When asked why he decided to buy the Hilux, this is what he had to say: "The first thing that caught my attention was the special price offer. This indeed is a good way to start a year with such great offer from Toyota Zambia.
I don't know if you still remember me, I was amongst your first customer that purchased the Toyota Rush. So here I am, I have come back for this Hilux because of its multi-purposefulness. The vehicle will be very useful especially that I usually travel long distances. It is stable and perfect for long distances with a good payload of between 800 to about 900 kg. The engine is designed to keep noise levels down. I also must make mention that I had to accessorise the vehicle with a roll bar, nudge bar and a tonner cover, which is a good way of making customers choose what we want. Talk of its powerful engine performance, I have made the right choice yet again", he said.
Toyota Zambia focuses on satisfying customers and tailor services according to their personal needs.
Once again we thank Mr Alam for choosing Toyota as the brand of his choice and congratulates to him for his good investment.