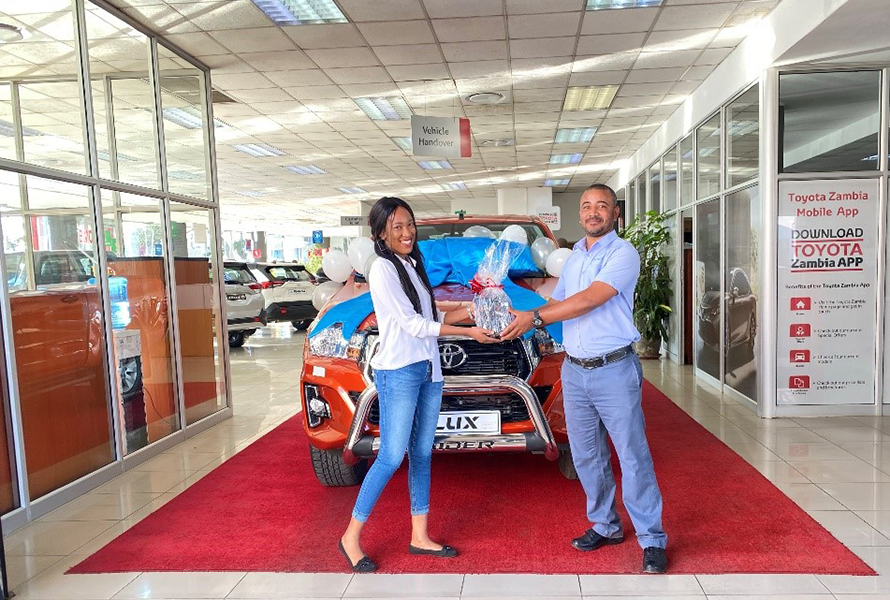 Toyota Zambia thanks Ms. L. Mkandakanda for choosing Toyota Zambia as the choice of brand.
Congratulations to Ms. Leukanji for purchasing the Toyota Hilux Double Cab. Asked about what made her to purchase the Hilux Double Cab, "I have always been a fan of the Rav4, as you might have noticed, that's the one am using. Nevertheless, I opted for the Hilux as it was in my budget range. What convinced me was your Tick Tock special sales campaign I saw on your Facebook page. The blue Hilux advert was very attractive. I then decided to visit your showroom to find out more and was assisted by a very well informative sale consultant who I must say made me realise how prestigious yet a utility vehicle a Hilux is. This particular model is very special because am able to receive emails via Gmail, use Bluetooth and explore the country to unknown places using the Global Positioning System (GPS). That 7inch Multimedia touch screen has more than what anybody can expect to have. As for the Orange metallic colour; it commands respect and attention, above all a very unique colour for a vehicle. My product brand research was not in vain. Just look at it (with a smile), I have settled for Toyota Hilux Double Cab, what a good investment I have made". She said.
Toyota Zambia wishes Ms Leukanji a safe drives and many kilometres ahead of her.
Once again congratulation!