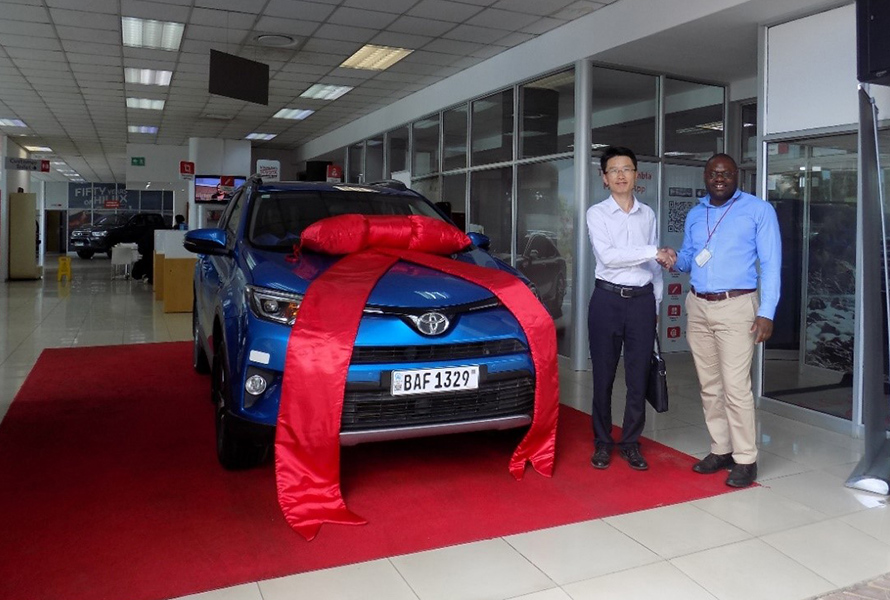 We would like you to join us in congratulating our New Esteemed Delighted Customer, Mr. Wang Delong for Purchasing Toyota RAV4.
Today we are communicating on the need and benefits of Market Segmentation. As Philip Kotler (2012) stated, Market segmentation is the process of dividing a market with potential customers into groups, or segments, based on different characteristics and traits such as similar interests, needs, wants or locations.
It is not a Coincident that Toyota Zambia has with no doubt segmented the Zambian market accordingly for customers to purchase Vehicles based on a sequence; from emotions to logic. One of the Target Market is for customers who "Use our affordable pre – owned Vehicles to maximise the value of their resources by investing in our quality used vehicles. Toyota Zambia has Undoubtedly witnessed benefits of not only creating new customer, but also converting prospects into advocates. Evidently this strategy has yielded Toyota Zambia with a competitive advantage in the market.
A good marketing strategy should integrate an organization's marketing goals, policies, and action sequences (tactics) into a cohesive whole. Therefore, Toyota Zambia is determined to explore and analyze various customer groups and align specific products to meet specific customers' demands to enhance mutual benefit for both the corporation and Prospects/Customers at Large. In A quest to further increase market share in a geometric way, Toyota Zambia intends to Increase the number of customers by investing in corporate resources to acquire more customers from different segments in this regards for pre – owned vehicles or what you might refer to as used cars. Undeniably, it has done well by analyzing the social, environmental and economic factors to efficiently plan and implement communication and marketing strategies according to customer needs effectively.
Toyota Zambia is not immune to these theories; we aim at exceeding customer expectations at an immense level. Our high quality, affordable pre-owned Vehicles or "used vehicles" are what the people need to invest in and own as an alternative or first option from the segments created. They come with full service history (warranty on demo units), low mileage and much lower prices.
Today we are so excited to share with you our readers about how we Value Segmentation and what it has done to us and the public. We would like you to join us in congratulating our New Esteemed Delighted Customer, Mr. Wang Delong for Purchasing Toyota RAV4. It is such a great investment to get at a significantly reduced price with great driving comfort feature giving the ergonomic or positioning of the driver assist system coupled with the elegance touch.
Mr. Wang Delong was amazed at how affordable the Vehicle was with such an elegance touch, considering the fact that it was a used Vehicle. Asked to give a statement regarding his purchase, "it is extremely important that Toyota Zambia has considered to look into supplying customers in Zambia with used cars, I am more than glad to drive off with this beautiful used car yet in such a very excellent condition. I have also been well informed by the Sales Consultant and also from my own research that you have genuine parts to continue keeping my Vehicle in a good condition fit for use. What a great way of considering people based on their needs, he said".