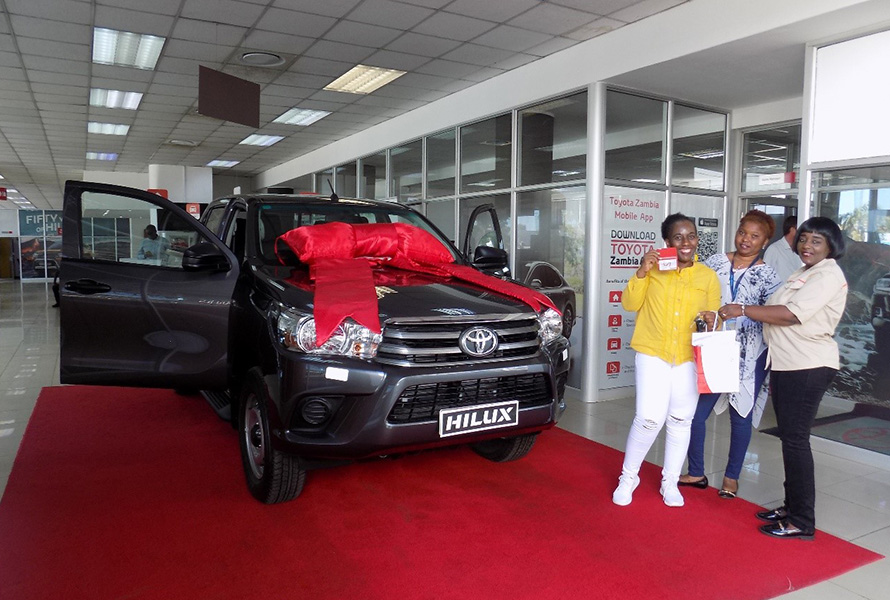 Toyota Zambia congratulates our New Excited customer Ms Charity Zulu for purchasing the Hilux 2.4 Double Cab Manual transmission.
Asked what prompted her to get this particular model she said, "you and I both know that Zambia Drives Toyota and for that reason, I would like to associate my self with a brand that Zambia Drives. As a small scale farmer I choose the Hilux, it is bigger, spacious and a utility vehicle for the kind of business am into. I am so tired of smaller vehicles and hiring 4×4 Vehicles which are later driven back to Car hire Companies. Thanks to Toyota Zambia, I finally purchased a well deserving Vehicle for my business. I would also like to extend my gratitude to the Public Service Micro Finance Company for making it possible for me to live my Dream".
A brand is a company's or individual's set of values (their identity) that defines them. It is who they are, the purpose, positioning, the promises which are delivered, the expressions and personality. These elements are the ones that compose the DNA of a brand. The same set of values or DNA are visible to a prospect that attracts them to associate with a strong Brand.
Toyota Zambia is a Global Brand that will lead the way of becoming a professionally managed, vibrant, successful and growing company trusted and respected by all our Stakeholders because of its deep routed DNA.
Toyota Zambia Thanked Ms Zulu who had such heartfelt excitement and further highlighted that she will be back for the Fortuner.
ONCE AGAIN, A BIG CONGRATULATIONS TO CHARITY FOR HER DREAM COME TRUE!