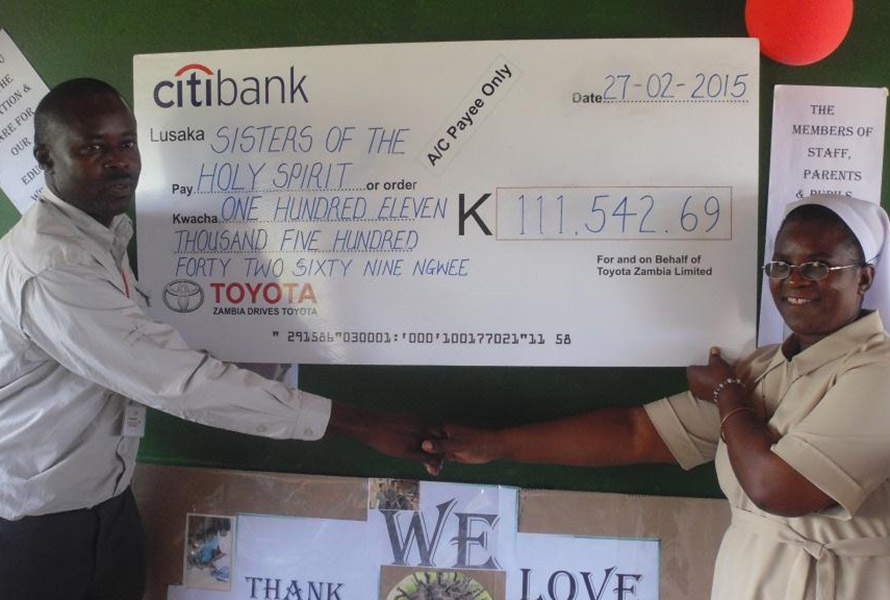 Toyota Zambia partnered with the Sisters of the Holy Spirit to provide adequate learning facilities at James Corboy School in Mazabuka.
A cheque of $16,142 was presented to the school on 27th February 2015 towards the construction of a 1 x 3 classroom block, bringing the total spend by Toyota Zambia on this project to $29,113.
The school is being run by the Religious Sisters of the Holy Spirit. The school has had a few challenges among them being inadequate School facilities to cater for children up to Grade 7 and other support infrastructure required in order for the school to offer quality Education in a conducive environment.
Toyota Zambia has supported the construction of the classroom block since inception thus contributing to the development of the country through Education which is in line with the Shareholders objectives of improving the quality of life for the communities in which we operate.
In appreciation of Toyota Zambia's support, Sr. Mariana Bbalo assure Toyota Zambia that the monetary support will help to bring to fruition the dream of Bishop James Corboy of empowering Zambian citizens with knowledge because he believed that an educated person is a liberated person who is able to make informed decisions. The classroom block will be named after Toyota Zambia as a token of appreciation.
Toyota Zambia Limited will continue to contribute to the community initiatives that uplift the young ones in the hope of laying a solid foundation for the future.