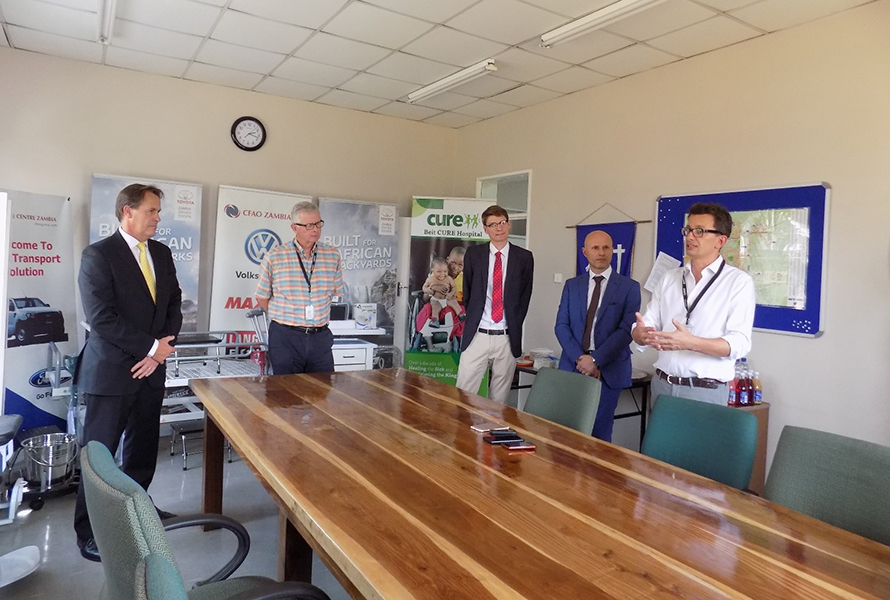 Toyota Zambia, CFAO Group and Mission Pharma has continued with their commitment and dedication to better the health care system in Zambia and ensure that citizens from all walks of life have access to good health care service.
To this effect, Toyota Zambia and CFAO Group in partnership with Mission Pharma on 30th of September 2019 did make donation of assorted hospital equipment valued at over K100, 000.00 to Beit cure Hospital.
In his remarks CFAO Group Country Delegate – Mr. Dino Bianchi stated that Toyota Zambia CFAO and Mission Pharma in close collaboration with other stakeholders shall remain a partner to Beitcure and support the good cause that the Hospital has continued to undertake in providing quality health-care to citizens of Zambia most of who come from under privileged communities at no cost. He stated that looking at various areas of common need, Toyota Zambia, CFAO Group together with Mission Pharma decided to consider and support various Key areas namely;
X- ray film viewer – equipment for viewing x-ray images.
Patient stretcher – bed for emergency or critical care with wheels.
Patient Cabinet – cabinet for patient to store their belongings while at the hospital.
Bilateral bedside locker – beside locker for patient.
Suction pump – sucking fluids off operating area.
Nebulizer – administering medicine in mist form especially to asthmatic patients.
Ward screen –curtains for privacy on wheels.
Instrument cabinet – cabinet for storing medical instruments.
Patient monitor – monitoring patient vitals during operation or in intensive care unit.
Wheelchair scale – scale for people who are unable to stand on their own.
Single step – step stoop to assist patients get on the examination bed.
Kick bucket – clean up bucket for theatre with wheels.
Electrode – patches to help read patients heart rate.
Crutches elbow – crutches with elbow support.
Crutch underarm – crutches with underarm support
The donation will help strengthen the health care system by contributing to the improvement of health status and quality of life, reduce hospital stays and costs, reduce mortality, complications and infections as well as make the hospital equipment readily available and accessible.
Speaking when he received the donation on behalf of Beitcure Hospital, the Executive Director Mr. Steve Hitt expressed gratitude to Toyota Zambia, CFAO Group and Mission Pharma for its support to Beitcure Hospital over the past decade. It's the support that the Hospital receives from Partners like Toyota Zambia, CFAO Group and Mission Pharma that enables the Hospital to carry out its work. He further stated that the Hospital is free for all, his team will continue reaching out to the community through word of mouth and through community engagement programs to raise more awareness.