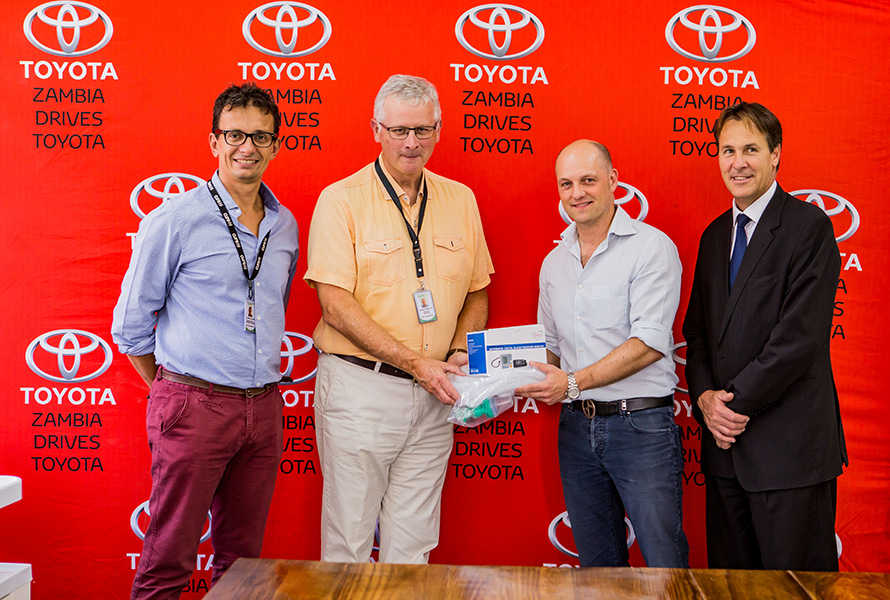 Toyota Zambia has continued with its commitment and dedication to better health care in Zambia and ensure that that citizens from all walks of life have access to better health care by working with Health care service providers like Beitcure Hospital.
On Thursday 23rd August, 2018 in partnership with Mission Pharma Zambia, Toyota Zambia Donated pharmaceuticals, medical consumable and hospital equipment valued at over K100, 000.00.
In his remarks Toyota Zambia Managing Director – Mr. Dino Bianchi stated that Toyota Zambia in close collaboration with other stakeholders shall remain a partner to Beitcure and support the good work that the Hospital has continued to undertake in providing quality health-care to citizens of Zambia most of whom come from under privileged communities. He said Looking at various areas of common need, Toyota Zambia together with Mission Pharma decided to consider and support four Key areas namely;
Nutrition – To ensure that adequate nutrition support is initiated as early as possible to speed up the recovery process and time for patients.
Laboratory – The lab machines donated included 4 pressure monitors and 4 Acu-Checks will ensure that laboratory tasks are carried out accurately and in a timely manner.
Hospital Equipment – in form of ICU equipment namely an Oxygen Concentrator and Baby CPAP as well as other essential equipment that includes 5 Beds and bedside lockers, waste bins and a patient stretcher.
Surgical Instruments – A sterilizer to support surgeons perform surgical procedures with safe and reliably clean instruments was also donated.
Both Toyota Zambia and Mission Pharma believe that this donation will help strengthen health care by contributing to the improvement of health status and quality of life, reduce hospital stays and costs, reduce mortality, complications and infections as well as make the hospital equipment readily available and accessible.
Speaking when he received the donation on behalf of Beitcure Hospital, the Executive Director Mr. Steve Hitt expressed gratitude to Toyota Zambia for its support to Beitcure Hospital. He said Toyota Zambia has been supporting Beitcure for the past 10 years that Beitcure has been operating in Zambia. It's the support that the Hospital receives from Partners like Toyota Zambia and Mission Pharma that enables the Hospital to carry out its work.
The general Manager for Mission Pharma Zambia Mr. Jacob Thorup Cohn said his organization was very happy to part of this program and that Mission Pharma will continue to collaborate with Toyota Zambia and other stakeholders to support quality health care delivery in the country.