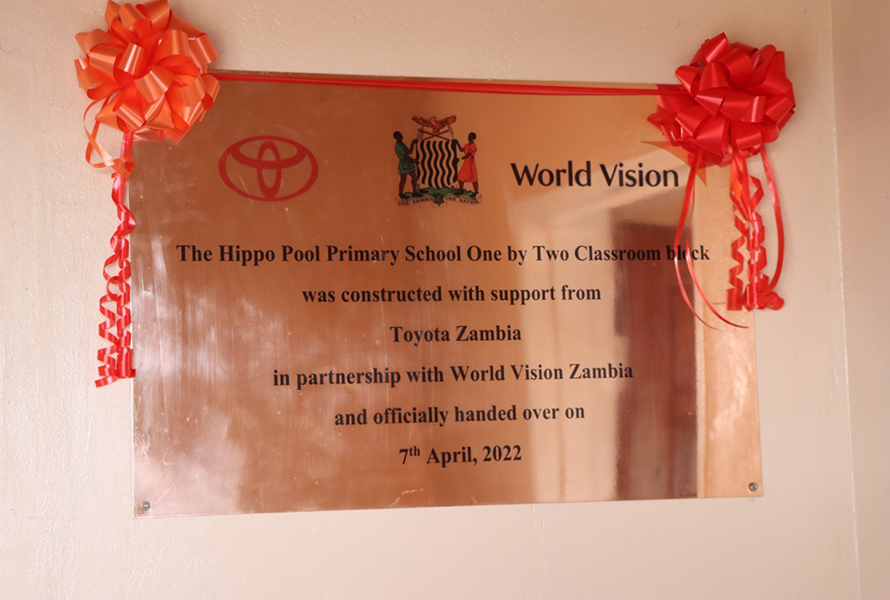 Toyota Zambia Limited in partnership with World Vision Zambia handed over a 1×2 classroom block at Hippo Pool community School in Chingola District, Copperbelt Province.

The hand over took place on Thursday 7thApril 2022. The constrution project was funded by Toyota Zambia at a Total Cost of Six Hundred and Twenty Eight, Four Hundred and Two Kwacha (K628,402). The Classroom Block was officially handed over to the School by Copperbelt provincial Minister, Hon. Elisha Matambo and commissioned by area Member of Parliament, also Minister of Commerce, Trade and Industry, Hon. Chipoka Mulenga.

Also in attendance was Toyota Zambia Group Managing Director, Mr. Dino Bianchi, World Vision Zambia Counrty Director, Mr. John Hasse, Provincial Education Officer for Copperbelt Province and the School Head Teacher.

Since its inception in 2003, the school has faced significant challenges in providing a conducive learning environment for learners due to inadequate learning space which resulted in classes being held irregularly, thereby affecting the quality of education for the pupils. The inadequate school infrastructure could not meet the high demand for education services needed by the children in Hippo Community and surrounding areas. Therefore, the completion and handing over of the school will provide a conducive, safe and dignified learning environment for learners, improve children's educational performance, as well as retention rates for teachers.

It is Toyota Zambia's goal and hope that with the provision of a good learning facility, more children in the area will be able to access primary education which is the foundation for a child's development.

Speaking at the Handover ceremony, World Vision Zambia National Director John Hasse says the collaboration between Toyota Zambia and World Vision seeks to give children a chance to get quality education by providing a safe and conducive learning environment. "We aim to ensure children live life in its fullness and we believe that this is possible if children learn in a conducive environment. Through this partnership, we are ensuring that over 150 children who attend school at Hippo Pool Community School learn in a favourable environment," says Mr. Hasse.

On the other hand, Toyota Zambia Managing Director Mr. Dino Bianchi said, Toyota Zambia recognizes the importance of access to quality education and improving school completion rates, especially for the girl child in our communities. It is for this reason that Toyota Zambia continues to partner with World Vision to support the Government of the Republic of Zambia in uplifting the education standards in our country. "We would like to assure you that Toyota Zambia in partnership with world vision Zambia will continue to partner with the Government of the Republic of Zambia, through the Ministry of Education, to implement similar programs in various communities to improve the quality of life for the citizens of this country," says Mr. Dino Bianchi.